As an Event Company, D-Hit Entertainment prides itself, in the range of Inflatables and Kids Entertainment Equipment we have to offer our clients.
If you are running out of ideas to make your kid's birthday party as memorable as possible or looking for new and fun activities to engage the children at your kid's birthday celebration, our games and Inflatable Rides may just be the solution you are looking for. We don't only have bouncy castles, but we having other mechanical interactive games for your children.
Benefits
If you want your children to play outside instead of staying cooped up inside the house, playing video games or watching television, then you need to rent a bouncy!
Inflatable Games are an active means for children to have fun. Give them the opportunity to enjoy the warmth of the sun and the fresh air outside. Playing in an inflatable house will get them to move about instead of just slumping inside the house, in a sedentary manner.

Helps kids learn social interaction

Many kids have a jumping castle at their homes where they play alone. It is to be noted that jumping castle is a lot more fun when more than 2 kids are playing together. Playing together in jumping castle helps kids make new friends, learn the art of playing with others and know how to play carefully without hurting anyone.

Safe playing environment for kids

Inflatable bouncy castles offer a safe playing environment for kids. Kids can enjoy games and jump in the safe environment of the jumping castle.

Playing in the jumping castle can help improve the imagination of kids. When kids jump in the bouncy castle they feel as if they are flying in the air. Kids can dig deep into the world of the jumping castle. They can create new games using the bouncy castle.
We offer bouncy castle and other inflatable games for hire. To view, the catalogue of Inflatables Games click "SEE MORE " at each preferred section.
If you have queries about our products and services, please do not hesitate to Contact us. We have dedicated customer support personnel ready to accommodate you right away.
INFLATABLE GAMES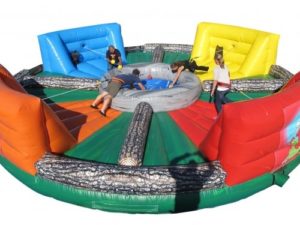 MECHANICAL GAMES